The Bush administration are creating these hurricanes to steal billions.
Here are some of the links to the proof that the Bush Adm. are creating these Hurricanes
HAARP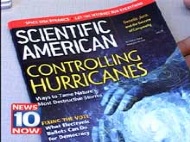 Weather modification is possible by, for example, altering upper-atmosphere wind patterns by constructing one or more plumes of atmospheric particles which will act as a lens or focusing device. . . . Molecular modifications of the atmosphere can take place so that positive environmental effects can be achieved. Besides actually changing the molecular composition of an atmospheric region, a particular molecule or molecules can be chosen for increased presence. For example, ozone, nitrogen, and other concentrations in the atmosphere could be artificially increased. . . ." Begich found eleven other APTI patents. They told how to make "Nuclear-sized Explosions without Radiation," power-beaming systems, over-the-horizon radar, detection systems for missiles carrying nuclear warheads, electromagnetic pulses previously produced by thermonuclear weapons and other "Star Wars" tricks. This cluster of patents underlays the HAARP weapon system.
For more info goto
http://twm.co.nz/wxwar.html
A picture of HAARP Read about it here Here is a form dedicated to the topic = All you ever wanted to know about weather control
http://www.cyberspaceorbit.com/indexback178.html
http://www.haarp.alaska.edu/
here is HAARP's magnetometer chart for a weeks period from Aug 21-28. Notice how there is a big spike between Aug 24 and Aug 25. This spike occurred right before Katrina made landfall in Florida.
Test all things =
http://137.229.36.30/cgi-bin/magnetometer/gak-mag.cgi
= 20050825
http://www.fromthewilderness.com/fre...ora/haarp.html
"In fact, the Katrina catastrophe may have been a creation of the Pentagon's High-Frequency Active Aural Research Program (HAARP), a weapon of mass destruction that is capable of de-stablizing the weather and ecology of entire regions of the earth. .
http://www.informationclearinghouse....ticle10053.htm
If the devastation in the Gulf Coast were such a creation, what a convenient way to spike gas prices overnight! A notion the anti-Peak Oil proponents may be entertaining at this moment while arguing that there is plenty of oil left on the planet, and that skyrocketing energy prices have nothing to do with Peak Oil but rather the abject greed of the oil industry."
Weather Control
Avalanches of energy dislodged by such radio waves could hit us hard. [The Stanford researchers'] work suggests that technicians could control global weather by sending relatively small "signals" into the Van Allen belt (radiation belts around Earth). Thus Tesla's resonance effects can control enormous energies by tiny triggering signals.
The Begich/Manning book asks whether that knowledge will be used by war-oriented or biosphere-oriented scientists.
In 1994 the U.S. Air Force revealed its Spacecast 2020 master plan, which includes weather control. Scientists have experimented with weather control since the 1940's, but Spacecast 2020 noted that "using environmental modification techniques to destroy, damage or injure another state [is] prohibited." Having said that, the Air Force claimed that technological advance "compels a reexamination of this sensitive and potentially risky topic."
http://www.au.af.mil/Spacecast/intro.htm
Discordant HAARP : The Air Force is Preparing to Militarize ..
http://www.emagazine.com/january-february_...7currhaarp.html
HAARP MAYBE USED TO START HURRICANES
http://losangeles.craigslist.org/pol/99295357.html
NWO/HAARP.htm
http://www.conspiracyarchive.com/NWO/HAARP.htm
http://www.space.com/tornado_taming_000303.html
http://www.space.com/scienceastronomy/plan...ing_000303.html
http://www.boeing.com/news/releases/...r_010731s.html