(to ease Gonzo's little mind)
REMEMBER FUCK-O's, you're voting for the WORST tribe!!!
(and this for dvvvyyyyyy)
Insult Challenge:

You must each come up with your best insult for a St. Louis rival Team or Specific Player from a rival team. (Ex. Cubs, RedWings, Matt Hasselbeck, etc.) Please post (in this thread) 1 insult per tribe member. Tribes will be judged as a whole and will be judged on truthfulness, hurtfulness and creativity...
Asscake Tribe:
WinstonSmith
For opening day, we get BUSH, while San Fran gets the honor of having the first planned lounge nuptials between Glenny and Razzberryshitstain. They get to meet Mayor Newsome and bring their own Baptist minister. The ceremony will be held in the urine and semen stained Streets of San Francisco while the honeymoon will be at FudgePackerPark with plenty of San Francisco treats including glen's shitstained penis. This will be Barry Bonds Bobblehead day, but I'll bet its glen that does most of the bobbin'. The only O on the SF team will be from the newlywed poofs.
Elviswasafertilemofo
Over on the left coast of Missouri, the Royals will try anything to attract fans.

The Friday June 25 game against the Cardinals will be KC Royally Fucked Night. The first 5000 fans to beat Todd Worrell to 1st base will win a commerative Don Denkinger dildo up the ass. Lube provided by Valvoline.
Dvyyyy
TOP 10+1 FAILED PROMOTIONS OF ST. LOUIS RIVALS

11 TENNESSEE TITANS – Jeff Fisher/Super Cuts Mullet Day - First 40,000 paid fans (male or female) with a mullet get a free pair of official Tennessee Titans/Jeff Fisher autographed sunglasses. For the few Tennessee fans without a mullet, representatives from Super Cuts will be at each entrance with an electric razor and a 3-guard.

10 NEW ENGLAND PATRIOTS – Patriot Flag Day – The first 10,000 paying customers will get the new official Patriot Flag, something never before seen in Foxboro – the flag is completely yellow.

9 DETROIT RED WINGS - Shanny Shags Your Spouse Night – For the first 5,000 paid tickets, Brendan Shanahan will personally shag your wife. 100 randomly selected fans will also get an autographed Craig Janney rookie card.

8 SAN FRANCISCO 49ERS – Jeff Garcia Straight Butta, K.Y. Jelly Day – First 5,000 male 49ers fans accompanied by their, uh, male friend get a free tube of KY Jelly.

7 CHICAGO CUBS - Kerry Wood Meatgrinder Day – If Kerry Wood goes over 150 pitches, all fans will get a free comb and $10 coupon good at any area butcher as they leave Wrigley.

6 VANCOUVER CANUCKS – Todd Bertuzzi Autographed Mug Shot Night – First 10,000 paid fans will get a personally autographed Bertuzzi mug shot photograph. 10 randomly selected and unsuspecting fans will get the photos personally delivered by Todd after he piles drives your head into the arena concrete floor from behind.

5 ARIZONA CARDINALS - Empty Chair Day – The first 40,000 fans disguised as an empty chair get in free. OK, make it the first 45,000. 50,000?

4 SEATTLE SEAHAWKS – Grant Wistrom "Role Reversal" Challenge – At halftime, the first 5,000 fans that sign up can attempt to run a reverse on Wistrom. On the off chance you DON'T score a TD (you slip on the turf, for example), Grant gets to piss IN your car.

3 SAN FRANCISCO GIANTS - Barry Bonds One-Size-Fits-All Replica Cap Night.

2 ATLANTA BRAVES – J.D. Drew Iron Horse Night – If Drew doesn't play in the game due to injury (strained uterus, etc.), all female fans will get a tube of Vagisil as they leave the park.

1 CHICAGO CUBS - Dusty Baker Give Da Honky A Wet Towel Month – Any whiteys coming to a day game in August get a cool, moist Cubs towel autographed by all the black and Latino Cubs players to keep the honkies from wilting in the heat.
TTB
Why did Kansas blow it vs GT?

Because Bill Selfabuse has taught the Gayhawks the art he has perfected thoughtout his career of 'choking' on the big one!
CSD

Vlad, Vlad

Vlad of the Red Wings

WATCH OUT FOR THAT TREE! 
guppy
Hey Sammy Sosa--suck my fart out of my ass, you steroid popping, chunky soup, bastard
Fishbone
Introducing Cubs "Rice Krispies." They Snap, Cracker and Mop, as in Mark Prior's achilles after his next pitch, what Dusty Baker calls Kerry Wood, and what Joe Borowski will be doing for a living after he blows his fifth save by the end of April.

Get them before it's too late, or you will have to wait, like you have since 1908.
damtoft
Given that the Cardinals have the most NL World Series Championships and the Spankees lead in the AL - and the two teams have met several times in thrilling World Series - I'm going to insult the friggin' Spankees.

The Spankees pitchers are such a bunch of pathetic cretin Huckleberries that they let Weeno Martinez go 3-3 against them on opening day - with a dinger.

Perhaps those pieces of shit should quit amusing each other by picking huckleberries out of each other's assholes and start pitching.

Worthless losers.
Matt75
Losing your stud pitcher for the first month of the season (at least), 3 games in the standings

Relying on a journeyman to be your closer, 5 games in the standings

Watching Sammy hit 25 homeruns because he's too scared to get back on the juice, 7 games in the standings.

Seeing this pathetic group of fucking idiots fall flat on their collective faces, again, priceless.

Your 2004 Chicago Scrubs, now in year 96 of being baseballs biggest joke. Loveable losers indeed. I bust a nut everytime they lose and that's a lot of nuts. 
007
Huckleberry Tribe
Dr Gonzo
An ode to Roger Clemens


You threw the bat at Mikey
and acted aloof.
You really wanted his cock,
you fucking poof.

Teammates want you dead,
you whined about your HOF cap.
Staring at the boys in the shower
all they hear is fap, fap, fap.

Petite wanted you with him
down in the Texas heat
So you two could share
a Cleveland Steamer treat.

You like little boys,
like that sick fuck jackson.
Kicked out of daycares
looking for action.

Now in Houston,
the fans are already sick
of the hometown boy's
tiny limp dick.

You're a fag for all seasons,
a real example to follow.
You are truly one load
that whore should have swallowed.
Indu WangZi
My ode to the Cub's...

Word on the street in Chi-town is...

Mark Prior hurt his elbow while trying to fix Kerry's "wood".. 
BigJoe
what's the deal with Dusty Baker and that stupid toothpick? he STILL
hasn't gotten all the jizz out of his teeth from his tender moments w/
barry bonds? he could've at least cleaned up before he started in on
sammy.

but word is that sammy ain't shootin' for the mouth. in his own words, sammy said, "you can lead a horse, or Dusty, to water, or a dildo covered in ketchup, and then ram him in the ass when he's not looking. or...something like that. Coming dusty!"
ms funkay
My letter to the Cubs is not to wish them luck,
but actually to let everyone know how much they suck!
They're called a bunch of "lovable losers",
when in fact they lead their fans to become a bunch of boozers.
If it wasn't for Wrigley, a great place to play,
most of us would think that you over welcomed your stay
your 7th inning stretch is no longer a song by harry carey,
and your best hitter pops those pills just like barry.
the players screw up and you blame a goat instead,
pull your heads out of your asses boys, that thing is dead!
They have no hope, so why not enjoy the summer
why watch all those games when you know it'll be a bummer.
don't tell me a miracle could happen and they could actually win,
wasn't that supposed to happen last yr Mr Bartman?
Its time to wonder why anyone cares,
NFL is just around the corner, practice saying Go Bears.
TurdFurguson
I would like to take this opportunity to address what I consider to be the greatest single threat facing this nation today. A group so bent on destroying everything that we on this board hold dear to our hearts; so willing to take what is rightfully ours that they would likely sell their souls (if they had them to begin with) to Satan himself. Am I talking about Al Qaeda? No, my friends, far worse – I am speaking of Cubs fans (aka Biggus Pussius).

While it is not known when the modern Cubs fan first devolved from a one celled amoeba to the parasite that we know today, it is believed to have taken place in the late 1800's somewhere along the shore of Lake Michigan.

This much we do know -

1. At some point in time their lives, they have all fucked a goat.
2. They are known to congregate in Wrigley Field, a 90 year old park that is so rundown that the walls are covered in with some type of weed (this supposedly adds to the charm).
3. They have a collective IQ of four, and manage to make even the staunchest liberal appear smart.
4. While their full biological makeup is not fully known, it has been confirmed that their brains consist entirely of shit.
5. They have all tea bagged each other at one point in time (while not common knowledge, it has been proven that all female cubs fans also have testicles)
6. For unknown reasons, they all seem to count "Sniffing Grandmother's panties" as their favorite pastime.
7. Regardless of the fact that the Cubs have done nothing worthwhile for nearly a century, these imbeciles will still brag like they were just awarded the job of head mop boy at the Whackn' Shack.
8. Steve Bartman is their hero.
9. While obviously better suited for a monster truck rally, MLB still allows them to purchase baseball tickets.


In conclusion –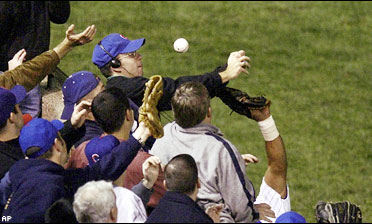 SluBlu
Whitey said it best...'If I managed the Cubs, I'd be an alcoholic'.

Along the same lines, I can only imagine that if I were a Cubs fan, I'd be snorting coke of the bloody cock of my boyfriend who got so hard up waiting for the goat to wake up he tried to fuck a can of old style. That lifestyle is full blown liberace gay.
BringBackZezel
Q:Why do the Red Wings players love Vlad Konstantinov much more after his accident?
A:No more gag reflex when it's his turn in the barrel.


"Who left spunk on Vald's forehead? Anyone have a wetwipe?"
SteveInebriated
So Andy Pettitte is balls-deep in Jeff Bagwell and in the heat of the moment, decides to give him a reach-around. Bagwell just stops cold, wiggles away from Pettitte and says to him "JESUS CHRIST, MAN! WHAT ARE YOU GAY OR SOMETHING?"
mellanby=grit
There once was a faggot named Todd
who loved his Swede boy's bod.
The Swede was a cheater,
So with his wife beater,
he took the pillow biter
out for a one nighter.
Threw him down in an icey brawl
then pounded his sphincter raw.
On TV he was without a glitch,
Todd the fuck boy crying like a bitch.
Weird_English_Guy
(plagiarized)
Here is my little ditty entitled 'Why Does God Hate the Cubs?'

Before God created the earth and humankind, he was kicking back one evening with Ron Santo. They were playing poker and talking about women. When God got up to take a crap Santo grabbed his holy chalise and took a big swig of God's Old Style. Since then, it all been down hill from there.